Jewelry Size Guide
Buying jewelry online can be one of the most exciting experiences, especially when it's been eagerly awaited, and the jewelry has been chosen with great care. Online shopping has added a new dimension to this fascinating experience - size guides.
Everything worn on the body requires the correct size and fit, both to look and feel as it should. And jewelry is no exception. Understanding jewelry sizes is crucial when buying jewelry for yourself or a loved one. Fortunately, we have good news for you: we can demystify the exciting world of fashionable jewelry and styling with a few tips on how to measure correctly for the jewelry you plan to purchase.
Jewelry sizes are essential when you want to style your look and highlight your best features. Just like contouring with makeup, jewelry can enhance or tone down your look, allowing you to create your signature style.
At Sif Jakobs Jewellery, we understand the importance of connecting with your inner self when choosing jewelry. We are serious about assisting our loyal customers in finding the best jewelry with the perfect fit to achieve the desired look.
We have put together this size guide to help you start your shiny journey towards finding beautiful jewelry and letting you discover always fashionable jewelry styling.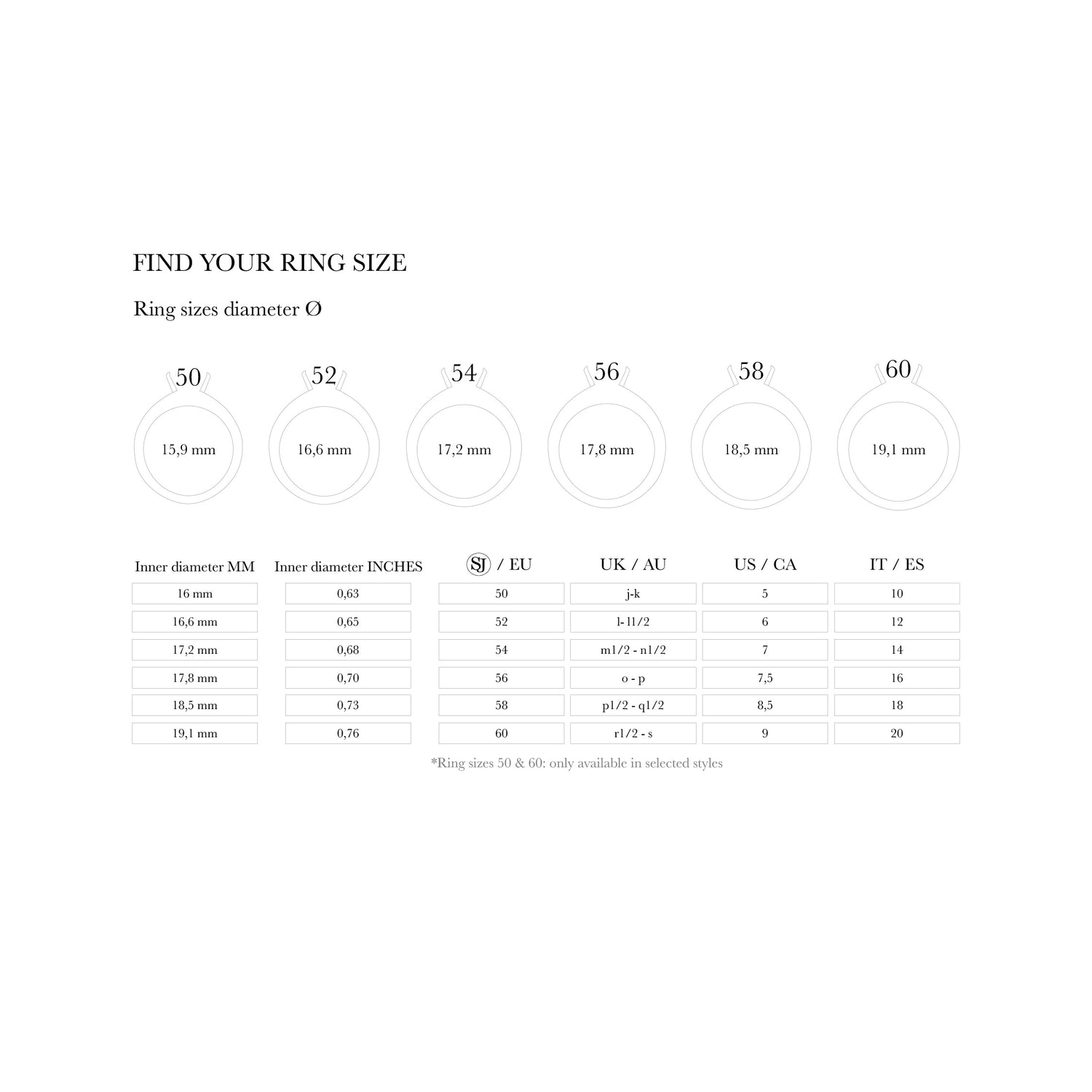 Ring size
Finding the correct ring size is a significant step, especially when the ring is a gift for a loved one or for a special occasion. If you have found your ring, let us help you choose the perfect ring size. Here are a few tips to make the purchase of rings a pleasure.
RING SIZE CHART
When buying rings online, choose your ring size from a chart. The experience can be cumbersome, especially if your purchase is significant, such as an engagement ring or couple rings to surprise your loved one. Online ring size guides vary around the world. SJJ ring sizes are based on the inner circumference of the ring and range from 48 (diameter: 15.3 mm) to 60 (diameter: 19.1 mm). You can easily identify the corresponding UK or US size from the chart.
SJJ tip: If you are between two sizes, choose the larger size.
HOW TO MEASSURE YOUR RING SIZE
The most accurate way to measure your finger is by using ring sizers - either plastic or printed on paper. You can visit your local jewelry store to have your finger measured or find an online ring sizer. Another way to measure your ring size is by measuring the inner diameter of your favorite ring, placing the ring on a ruler's millimeter side and comparing the diameter with a printed table like this one.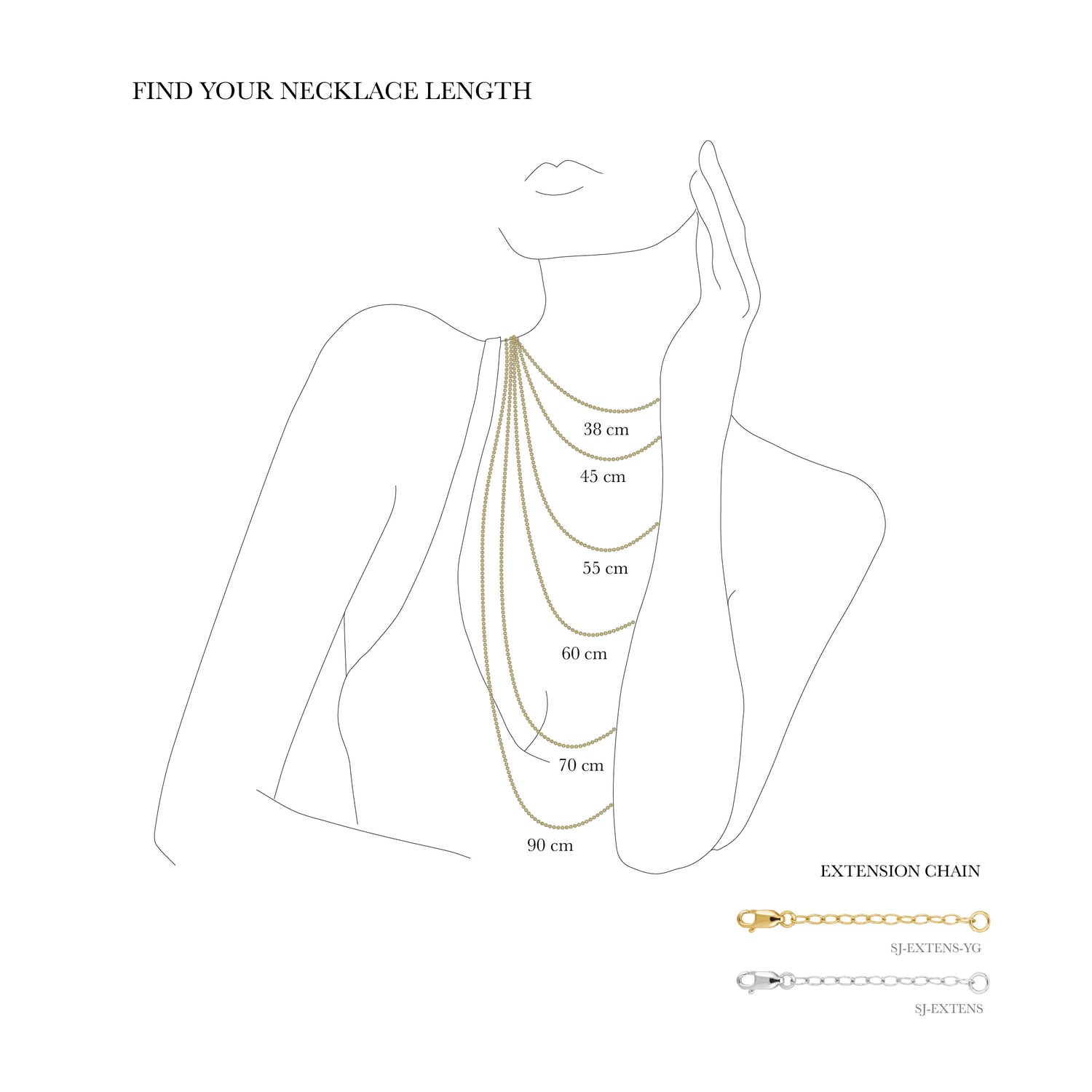 Necklace length
A necklace can be the focal point, especially when you want to send a strong signal. We have a splendid selection of chains in various lengths and thicknesses, perfect for styling your everyday look or adding glamour to your festive evenings.
UNDERSTANDING CHAIN LENGTHS
When making online purchases, choosing the best length for a necklace and how it will sit when worn is a fundamental concern. Everyone has unique body proportions, and the shape of your face, neck, and the length of your upper body all come into play. A necklace of the right size and length can accentuate your neckline, add something extra to your outfit, and highlight your best features.
In general, a short 45-48 cm necklace will rest just below your collarbone; medium-length necklaces, or longer 70 cm necklaces, will fall between or below your neckline, and 90 cm chains will reach mid-chest or lower.
NECKLACE CHAIN LENGTH GUIDE
Sif Jakobs Jewellery necklaces are adjustable and are available in various lengths, ranging from 30 cm to 60 cm. When measuring the necklace, it's important to measure the entire circumference. To measure yourself, look in the mirror and place a tape or string around your neck. Bring the ends together where you feel the length will be suitable for you. Mark the point and measure the length of the tape/string.
To make it easier for you to find the right length, we have created an illustration showing how long a necklace of a specific length will be. Please note that the length may vary depending on your size and shape.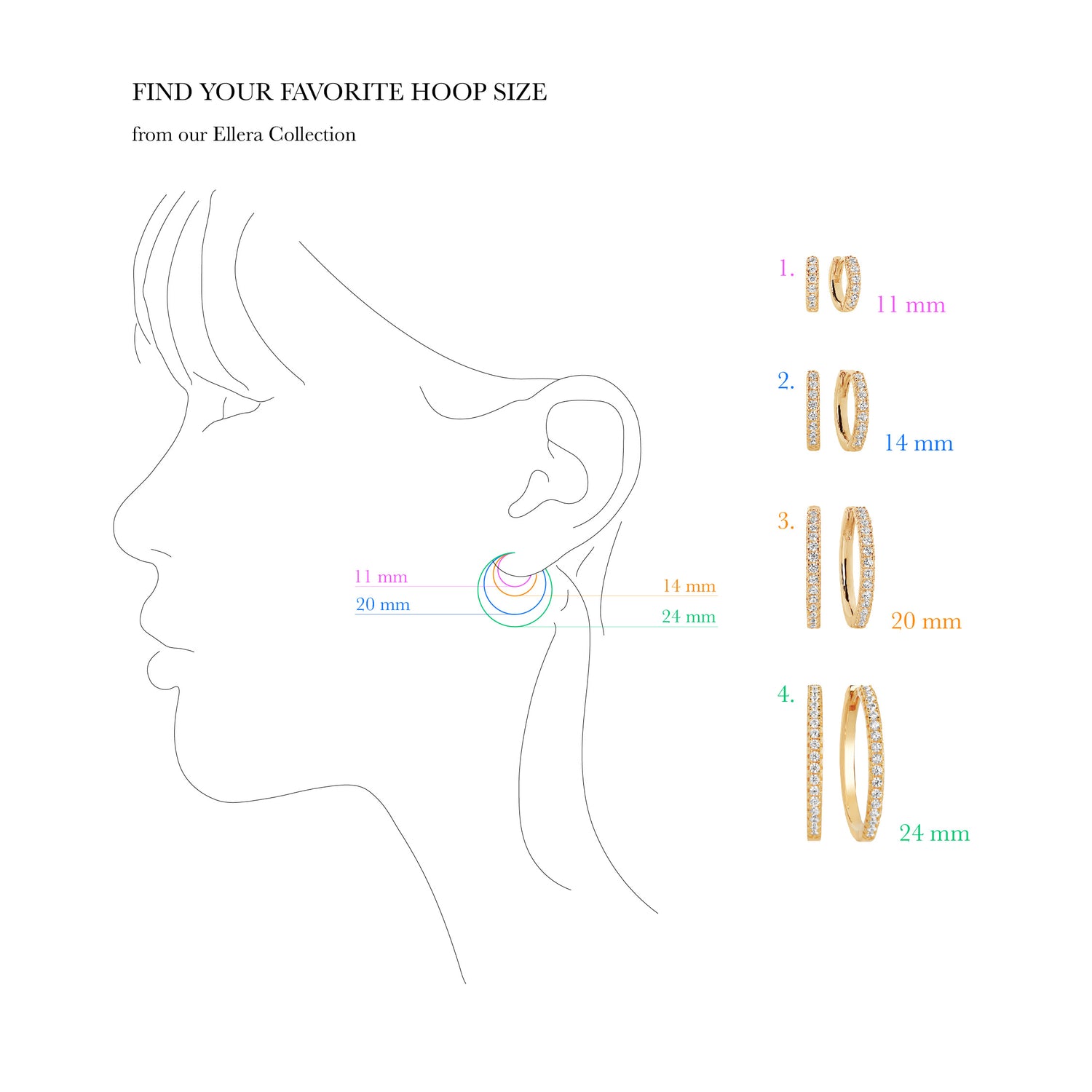 Hoop size guide
When it comes to hoop earrings, size is crucial for achieving the perfect look. To help you find the ideal size, we've prepared this handy size guide.
Piccolo Hoops: These earrings, measuring 11 millimeters in diameter, add a delicate and subtle touch to your outfit. Perfect for daily wear, they can be paired with almost anything.
Medio Hoops: With a diameter of 14 millimeters, medium-sized hoops are versatile and work well for both casual and evening looks. They add a touch of elegance without being too conspicuous.
Grande Hoops: Statement earrings with a diameter of 20 millimeters create a dramatic look and are ideal for special occasions where you want to stand out.
X-Grande Hoops: Statement earrings with a diameter of 24 millimeters are perfect for festive occasions such as weddings, birthdays, a night out, or to elevate an everyday outfit.
When choosing your hoop earring size, consider your face shape, style preference, and the occasion where you'll be wearing them. Whether you prefer subtle or bold, we have the perfect size for you. Explore our range and find the hoop earrings that best suit your style and personality."